Bidoun Library, Abu Dhabi and Dubai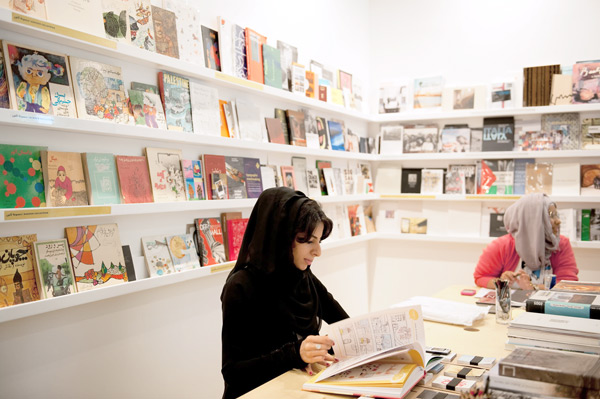 The Bidoun Library had its first outing at Abu Dhabi Art (November 2009) as a collection of books, catalogs, journals, and ephemera that trace contemporary art practices as well as the evolution of the various art scenes of the Middle East. This peripatetic resource then traveled to Art Dubai (March 2010).
The project space allowed visitors to explore, research, and create wide-ranging connections through materials that are generally unavailable commercially. The focus was on materials created by and for artists, as well as those published by independent organizations based in the Middle East.
Besides print materials, the library includes music programs selected by Hassan Khan and Tiffany Malakooti, presented via iPod listening posts. Featured independent publishers in this first version of the library include Ashkal Alwan and the Arab Image Foundation.
Banu Cennetoğlu, a founder of the Istanbul artist-run publisher BAS, curated a section dedicated to artist's books, while Samandal, the Lebanese artists' collective that creates trilingual comics, presented a collection of influential comic books and magazines.
In 2009-2010, the library was presented in partnership with Abu Dhabi Art.