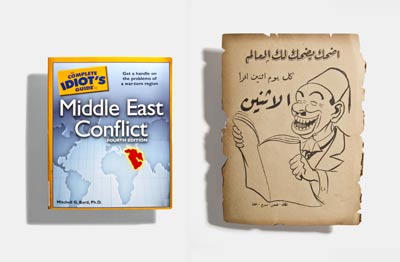 New Museum (5th Floor)
August 4 — September 26, 2010
235 Bowery
New York, NY

The Bidoun Library Project at the New Museum is a highly partial account of five decades of printed matter in, near, about, and around the Middle East. Arrayed along these shelves are pulp fictions and propaganda, monographs and guidebooks, and pamphlets and periodicals, on subjects ranging from the oil boom to the Dubai bust, the Cold War to the hot pant, Pan-Arabs to Black Muslims, revolutionaries to royals, and Orientalism to its opposites.
Most of the 700-odd titles on display were acquired specifically for this exhibition. The shape of the collection was dictated primarily by search terms on the World Wide Web rather than any intrinsic notion of aptness or excellence. Searching for "Arab," "paperback," "1970s," and "<$3," we acquired dozens of books about the Oil Crisis, the cruel love of the Sheikh, and the lifestyles of the nouveau riche. A similar search for "Iran" produced its own set of types and stereotypes. We did not set out to find the best books about, say, the Iranian revolution; in a sense, we looked for the worst. Or, rather, we tried to look at what was there. The result is less a coherent group of titles or texts than an assortment of books as things, sorted roughly into four themes or units. Catalogues hang from the ceiling in front of each shelf cluster. Inside is a documentation of a selection of books from that shelf, in dialogue with excerpted texts and images from the library as a whole. The Bidoun Library includes a program of Iranian film, video, and television culled from low-fidelity DVDs and VHS tapes that circulate among Iranians in the Diaspora. The selection includes post-revolutionary variety shows, music videos, and other totems of middlebrow—unibrow?—culture. This is an Iranian cinema unlikely to be shown at Lincoln Center.