Bidoun and Art Dubai 2010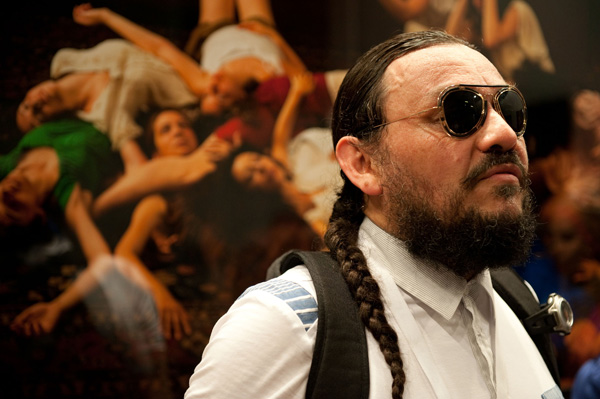 Daniel Bozhkov's The Fastest Guided Tour of Art Dubai (run through 10,000 square meters of creative production in 35 minutes without missing a significant gallery or work of art)
Art Dubai 2010
March 17–20, 2010
Madinat Jumeirah, Dubai
In 2010, Bidoun Projects is the curatorial partner of Art Dubai, responsible for programming a series of non-commercial exhibitions, commissions, screenings and educational events that engage with the fabric of the fair. Our projects at the fair are kindly supported by the Emirates Foundation.
The projects range from A New Formalism, a group exhibition, including Hazem El Mestikawy, Iman Issa, Mahmoud Khaled and U5, that looks at new and expanded formalist practices, to a series of commissions that dwell on the spectacular, temporal nature of an art fair. These include new installations by Ebtisam Abdul-Aziz and Vartan Avakian, and a set of ice sculptures designed by Farhad Moshiri. Nikolas Gambaroff and Matt Sheridan intervene at Madinat Jumeirah with Nowhere for Nothing, a stoop designed to encourage loitering.
Bidoun Projects has commissioned Sophia Al Maria, Khalil Rabah and Daniel Bozhkov to act as guides, conducting narrative and performative tours of the fair. (Places are limited: please sign up in advance at the Art Projects Desk.)
Forms of Compensation, an exhibition situated within Art Dubai's gallery halls, is a series of reproductions of iconic modern and contemporary artworks, with an emphasis on sculptures, paintings and prints by Arab and Iranian artists. The series was produced in Cairo by craftspeople and auto mechanics in the neighborhood around Townhouse Gallery, overseen by artists Babak Radboy and Ayman Ramadan, working from installation shots of the original artworks, along with the instruction that each copy should differ in one small way from its referent.
Alice Aycock, Sand/Fans, 1971
This year's projects also dwell on the nature of documentation. A trio of artists and writers (Shumon Basar, Haig Aivazian and Naeem Mohaieman) are 'in residence' at the Global Art Forum and at the Art Park Talks, mapping the (naturally contested) conversations and moments – both those remembered and in real time. In keeping with the Global Art Forum's theme of 'Crucial Moments', Alice Aycock's seminal 1971 installation Sand/Fans, with sand sourced from the UAE desert, will be recreated.
Bidoun Video in the Art Park features guest curators Sohrab Mohebbi and Özge Ersoy along with Masoud Amralla Al Ali, Aram Moshayedi, and Bidoun Projects, shown in a screening room and in the Bidoun Lounge in daily screenings hosted by the curators. A dynamic discussion programme includes talks and performances looking at the relationship between archives, art, music and film, in collaboration with the online avant-garde archive, UbuWeb.
The Bidoun Library is a collection of books, catalogues, journals, music and ephemera that traces contemporary art practices as well as the evolution of the various art scenes of the Middle East. At Art Dubai 2010, the resource space features a selection of innovative artists' and children's books (as well as music and films) published by Kanoon, Iran's Centre for the Intellectual Development of Children and Young Adults, founded in 1961, which was an incubator for some of the country's most celebrated artists and filmmakers, including Abbas Kiarostami, Amir Naderi and Farshid Mesghali.
Bidoun Projects' exhibition at Art Dubai brings together a bold design—referencing the art fair context—with a precise selection of works by Hazem El Mestikawy, Iman Issa, Mahmoud Khaled and U5 that together pose an expanded understanding of formalism.
This is a formalism that takes as its raw material everything from personal and social references, theoretical concerns, the imaginary and abstract understandings of objecthood, to a deep and profound interest in how an artwork articulates itself in space.
The dominant art system, as manifested in both the market place and the rarefied museum hall, has tended to promote two equally unsatisfying and reductive obsessions: the easily and superficially political, or the increasingly decorative and exotic.
Yet there is work that defies such categorisation: work that remains resistant to easy explanations yet invested in the world; work that manages to posit formal concerns through a direct and powerful engagement with personal associations, the social landscape or even the history of forms themselves.
This is an exhibition that chooses to make a simple argument that takes as its starting point the subtle articulation of four works that share a space.
Iman Issa

Triptych#5, 2009
Photographs, flashing lightbulb, timer, metronome
Dimensions variable
Triptych#6, 2009
Photographs, text
Dimensions variable

Iman Issa's latest series, a group of six Triptychs (2009), employs a variety of media (from photographic prints to text, and video to sculpture) to produce a precise and clear singular composition. The series' conceptual rules, both the key to the work as well as its guiding principle, allows us an entry point that unifies the piece without robbing each element of its own individuality. In this highly intriguing and charged set of visual relationships, all elements are elegantly balanced and grounded by their very own set references. Here the artist's long standing interest in memory, architecture and spatial practice, and their intersection, are brought to a sort of culmination, marking a seminal high point in the artist's decade long practice.
Iman Issa (b.1979, Cairo) is based in Cairo and New York. Her group and solo exhibitions include 'Trapped in Amber', UKS, Oslo (2009); 7th Gwangju Biennale (2008); 'Cairoscape', Kunstraum Kreuzberg/Bethanien, Berlin (2008); 'Making Places', Townhouse Gallery, Cairo (2008); 'Look Around', Arte Ricambi, Verona (2008); 'Memorial to the Iraq War', ICA, London (2007); 'Philip', Project Art Center, Dublin (2006); and 'Mediterraneo', MACRO, Rome (2004). Her video work has been screened at several venues including Tate Modern, London; Spacex, Exeter; and toured to Art Dubai and Open Eye Gallery, Liverpool as part of Bidoun Video 2008.
Mahmoud Khaled

Safety Zoom, 2008-9
Video Installation, including single channel DVD, 7:13 min., loop, soun
Originally commissioned for 'Trapped in Amber: Angst for a Reenacted Decade', curated by Bassam El Baroni & Helga-Marie Nordby, UKS, Oslo, Norway, 2009.
Safety Zoom takes footage spontaneously and voyeuristically shot by Mahmoud Khaled during his London residency as its starting point. Eschewing easy, documentary-style dichotomies of commentary and condemnation, Khaled opts instead for a productive ambiguity. Profoundly engaging the act of visual presentation Safety Zoom's politicized liminality, part stage-set, part installation, invests the material with the power to go beyond mere judgment to that of reflection. This meditation on the power of spectacle, race relations and the camera's ability to directly affect its subject is a new stage in the artist's research in forms of presentation as well as the way society orders itself in relation to its members.
Mahmoud Khaled (b. 1982, Alexandria) lives and works in Alexandria, Egypt, where he studied painting, graduating with a BFA in 2004. He is the recipient of a number of residencies including the Funen Art Academy, Odense, Denmark; Gasworks, London; and the Montalvo Arts Center, California. Khaled's approach to art-making is both process oriented and multidisciplinary, producing works in video, photography, text, and site specific installation. International group exhibitions and projects including Biacs3 (Seville, 2008), PhotoCairo 4 (Cairo, 2008), 'All Clear' (Salzburg, 2007), 'Out of Place' (Beirut, 2007) and the 1st Biennial of the Canaries (2006). Most of his projects have at their core a thorough exploration of the document, in its many variations of official, social, historical, and personal. Khaled makes use of video, found objects, and various photographic resources, to test the boundaries between the personal, the political, the historical and the social domains. His projects tend to examine the often coded and powerful socio-political trajectories that run through our daily lives.
Hazem El Mestikawy

Overlapping Square, 2000
Cardboard and newspaper, 5 units, 35 x 35 x 225cm
Mafrouka, 2000
Cardboard and newspaper, 14 units, 204 x 22cm x 7.23cm

Sculpture in two parts, 2000
Cardboard and newspaper, 140 x 14 x 24cm

Produced exactly a decade ago in an especially productive year, all three sculptures are in Hazem El Mestikawy's own words "turning points" in his practice. The artist's work has since the turn of the millennium consistently managed to avoid the expressionistic legacy of sculpture in Egypt. By intensely focusing on reducing forms to their most primal constitutive elements, motifs that have become decorative through their trite and banal usage over the years manage to reclaim their references and sources at the most basic level. El Mestikawy's rigorous engagement of form in these cardboard sculptures allows us to see the motif, in the artist's words, as "specific objects". This return to the bare object is both a deconstruction of a legacy as well as the reconstruction of a new visual grammar.
Hazem El Mestikawy (b. 1965 Cairo) lives and works in Cairo, Egypt and Vienna, Austria. El Mestikawy has been exhibiting regularly since 1989. He won the Grand Prize for Installation at the 11th Youth Salon, Cairo, in 1999, and the Grand Prize at the 13th Asia Art Biennale in Dhaka, Bangladesh in 2008. Exhibitions include 'Miniature Erotic Art', Aarau-Switzerland, 1997; 'Dimensions', Cairo Atelier, 1998; the 8th Cairo International Biennale, 2001; 'Art Out of the Suitcase', Art Museum Olten, Switzerland, 2004; 'Trap-Labyrinth', NÖ-Documentation Center of Modern Art, St. Pölten, Austria; 'Image AND Letters', Gallery Atrium, Arte Vienna, Austria, 2005; 'Type Faces' raumim puls, Waidhofen/Ybbs Museum, Austria, 2006; 'Baggage', Alexandria Atelier, Egypt; 'Occidentalism: contemporary artists from Egypt', Cairo; 'Black Sheep', kunst treppe gallery, Winterthur, Switzerland; 'What's Happening Now?', the Art Palace, Cairo, 2007; 'From Athens to Marseille to Cairo', Palais Des Arts, Marseille, France; 'The Last Book', National Library of Argentina, Buenos Aires; 'Aesthetics and Science', Austrian Academy of Science, Vienna; 'Gathering 2009', Cairo-Atelier, Cairo; 'Undercurrent Changes', Gallery Art Sawa, Dubai; 'Alif Beh' (solo show), Galerie Atrium ed Arte, Vienna; 'Modulus', Oxyd Art Spaces, Wülflingen, Winterthur, Switzerland.
U5

Dog Skull, Horn, Mirror Case and Fire Extinguisher, 30x40cm


Shield and Turbine, 30x25cm

Cigarette Crown and Scepter, 21.8x30cm

Pineapple and Film Projector, 22.5 x 30 cm


Beam, 12 x 15 cm

All from the series 'A selection of the U5 archive', 2010, 30 x 40 cm, inkjet print

The practice of this Zurich-based artist collective spans a wide range of approaches and mediums. Their humor, situationist inspired derive as well as a knack for an almost Bataillian fascination with the totemic figure marks them amidst the generally ironic and trendy miasma of self-labeled politicized artist groups currently dominating the scene. U5 obsessively collects, files and produces objects, pictures and data. This selection of eleven prints from the U5 archive was commissioned by Bidoun Projects for this exhibition and marks the first time the work has been shown.
U5 is an artist group consisting of 4 people. U5 was founded in 2007 in Zurich, Switzerland. http://u5.92u.ch
In 2010, the Art Park, the converted car park underneath the galleries at Madinat Jumeirah, hosts informal talks and performances curated with UbuWeb, and a screening room and video bar, showing the Bidoun Video 2010 programs [LINK], curated by Bidoun Projects and guest curators.
This year's talks focus on the relationships between archives, art, film and music, curated in collaboration with the avant-garde archival site UbuWeb. Speakers include Kenneth Goldsmith, founder, UbuWeb; filmmaker Peggy Ahwesh; film & video artist Hamlet Hovsepyan; Banu Cennetoglu, of BAS, Istanbul; Platform Garanti's Vasif Kortun; Payam Sharif of Slavs & Tatars. Bidoun's Tiffany Malakooti presents a selection of rare films from the Kanoon archive.
The Bidoun Lounge also hosts The Big Idea, a 'pitching forum' for artists, designers and architects from the UAE and beyond, on Wednesday March 17 at 8pm.
An art fair is of course defined by particular sets of performative roles – on the part of the gallerist, artist, journalist, curator and visitor. Drawing on the fair-as-stage-set for inspiration,
Bidoun Projects commissioned artists to act as tour guides, devising their own narratives through the galleries and the fair grounds, in an exploration of the pure subjectivity of interpretation. These will range from Khalil Rabah's bespoke sedan chair tour, to narratives from the future thanks to Qatari writer-artist Sophia Al Maria, aka SciFi Wahabi, to Daniel Bozhkov's The Fastest Guided Tour of Art Dubai (run through 10,000 square meters of creative production in 35 minutes without missing a significant gallery or work of art).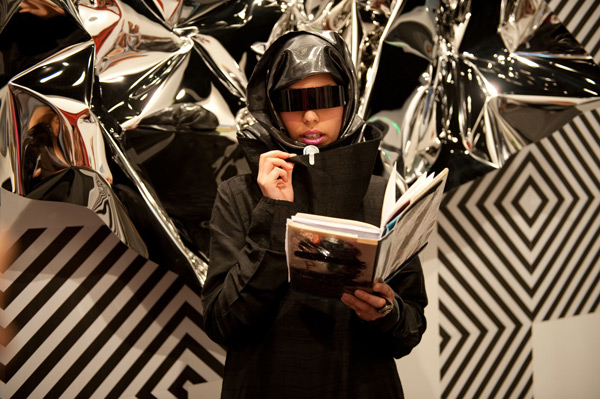 Sophia Al Maria, aka SciFi Wahabi
Daniel Bozhkov is an artist based in New York City. He employs a variety of media, from fresco to performance and video, and works with professionals from different fields to activate the public space. Bozhkov enters the worlds of genetic science, department mega-stores, world famous tourist-sites, as an intruder /visitor who functions as a producer of new strains of meaning into seemingly closed systems.
Sophia Al-Maria is a Qatari-American writer and artist. She is a contributing editor of Bidoun, studied Aural and Visual Cultures at Goldsmiths and currently lives in Doha where she works for the Arab Museum of Modern Art researching its Gulf collection.
Khalil Rabah is based in Ramallah, Palestine. The founder of the Palestinian Museum of Natural History and Mankind, he has participated in the biennales of São Paolo, Sydney, Istanbul, Kwangju and Venice, besides many group and solo shows. He is also the Director of Riwaq Biennale, Palestine.
(Re-Mapping), 2010
Ebtisam Abdul-Aziz
Ebtisam Abdul-Aziz's installation (Re-Mapping) is based on precise and organized mathematical elements set within a mathematical framework or structure, which Abdul-Aziz describes as 'System Art'. (Re-Mapping) re-draws a version of the Middle East (the Arab League of Nations and Iran) according to a specific yet abstracted code. After transferring the abstracted outline of each country into a 3D installation, the height or proportional value of each country is distorted to reflect actual statistics and figures describing the arts scenes in each country – the markers that art world observers tend to use to "evaluate" the status and health of each nation's arts scene.
The work combines the mathematically precise (yet essentially arbitrary) and an imprecise collision of national statistics and the ever-evolving, somewhat unregulated art market and barely documented arts scenes of the Middle East. The "success" and "health" of these arts scenes are, nevertheless, regularly debated at the national level and within the media, often with cities and countries compared to each other; the tradition of comparison and competition by culture has been heightened with the regional market boom of the past few years and the development of the Gulf as a potential centre for museums, fairs and so on. (Re-Mapping) plays on this notion of a league of cultural scenes, and questions the grounds on which it is "measured"; by necessity, it includes Iran, and so re-draws and questions the borders otherwise taken for granted.
Ebtisam AbdulAziz is a multidisciplinary artist and writer from the UAE. Reflecting her Bachelor's Degree in Science & Mathematics, AbdulAziz incorporates her unique perspective on mathematics and the structures of systems to explore issues of identity and culture through installations, performance pieces and works on paper. Abdulaziz has exhibited as part of the Inaugural UAE and ADACH Pavilions at 53rd Venice Biennale, as well as at the 7th Sharjah Biennial; Languages of the Desert, the Kunst Museum, Bonn, Germany; and Dubai Next, a collaboration between the Dubai Culture & Arts Authority and Vitra Design Museum, Basel 2008. Abdulalaziz is a member of the Emirates Fine Art Society and the Al Tashkeel editorial team. She lives and works in Sharjah, UAE and is represented by The Third Line.
The Ugly Duckling, 2010
Farhad Moshiri
In a play on the spectacle of an art fair, as well as the tradition of outsource when it comes to large-scale projects, Bidoun Projects commissioned Farhad Moshiri to design a sculptural work to be rendered in ice. The work – featuring a set of ducks in colored ice – will be unveiled on March 16, the opening night of the fair.
Based in Tehran, Farhad Moshiri is a painter known for constantly pushing his materials (including icing dispensers, Swarovski crystals and knives) and creating increasingly textured and sculptural works. His practise combines an ironic, Iranian visual vernacular with an acute awareness of popular culture and art history.
Some Things Cannot be Made in China, 2010
Vartan Avakian
Avakian continues his exploration of consumer products and their meaning with this new, commissioned project, developed in Dubai right before the fair. Selecting goods of particular meaning in the UAE, scanning them and, by this process, reducing them to pure materiality, Avakian will then exhibit the images on a trivision billboard, in the grounds of the fair.
Vartan Avakian is an interdisciplinary artist whose work combines architectural and urban research, video, installation and pop media. Typical of his interactive, endlessly inventive practise, Avakian's new work plays with the framework of the fair. He lives and works in Beirut.
Sand/Fans, 1971/2010
Alice Aycock
A restaging of Alice Aycock's installation that was first exhibited at 112 Greene Street, Soho, New York, in the early 1970s, and perhaps epitomized the birth of the conceptual art movement of that time.
The installation is accompanied by a discussion between Alice Aycock, Vito Acconci and Dennis Oppenheim at the Global Art Forum [pdf] — part of the Forum's focus on 'Crucial Moments' in the art world.
Alice Aycock is a sculptor who builds large semi-architectural projects which deal with the interaction of structure, site, materials and the psychophysical responses of the viewer. Her solo shows include exhibitions at the Museum of Modern Art and The Museum of Contemporary Art in Chicago, and major retrospectives: in 1983 – 4, organized by the Wurttembergischer Kunstverein in Stuttgart and, in 1990, by the Storm King Art Center in Mountainville, New York.
Nowhere for Nothing (Dubai Stoop), 2010
Nikolas Gambaroff and Matt Sheridan Smith
The space we are describing is conceptually interstitial and physically proximate. The seam (or crack) is subjective, and the formal articulation objective. It is parasitic in duration and socially incidental. It exists as a proposition and is as such always an option, whether exercised or not…
An ongoing collaborative project, Nowhere for Nothing sees artists Nikolas Gambaroff and Matt Sheridan Smith intervene in (semi)public spaces with a New York brownstonestyle stoop – the kind of steps that encourage passersby to stop for a chat and to exchange some gossip.
New York-based Matt Sheridan Smith's most recent solo exhibition was Blanks, Templates, Undos, Redos at Lisa Cooley, besides group shows at The Drawing Center, Galerie Lelong, and Gavin Brown's Enterprise, New York.
Nikolas Gambaroff also lives and works in New York. Recent exhibitions include a solo show at Balice Hertling, Paris, plus group shows at Kunsthalle Zürich, Gavin Brown's Enterprise and Harris Lieberman in New York, and Prochoice and k/Haus in Vienna.
5000 Friends After The Rolodex
Shumon Basar and Haig Aivazian
As an experiment in documenting a series of divergent and contested conversations, Haig Aivazian and Shumon Basar are artists-in-residence at this year's Global Art Forum and the Art Park Talks programme. The trio of artists and writers are charged with acting as live editors, commissioned to map both real-time and remembered moments over the four-day programme that begins in Doha and continues at the fair in Dubai.
Haig Aivazian is an artist, writer and curator currently based in Chicago.
Shumon Basar is a writer, editor and curator.
The Bidoun Library
The Bidoun Library is a collection of books, catalogues, journals and ephemera that traces contemporary art practices as well as the evolution of the various art scenes of the Middle East.
This peripatetic new resource is designed to 'pop up' alongside arts events and institutions in the region and beyond; each time, it includes a new focus, curated by an artist or artist 's group.
At Art Dubai 2010, the library features a selection of innovative artists' and children's books (as well as music and films) published by Kanoon, Iran's Centre for the Intellectual Development of Children and Young Adults, founded in 1961, which was an incubator for some of the country's most celebrated artists and filmmakers, including Abbas Kiarostami, Ebrahim Forouzesh, Amir Naderi and Farshid Mesghali.
The project space allows visitors to explore, research and create wide-ranging connections through materials that are generally unavailable in the Gulf. The Bidoun Library focuses particularly on materials created by and for artists, as well as those published by independent organisations based in the region, and was founded in partnership with Abu Dhabi Art. Besides print materials, the library includes music programmes presented via iPod listening posts and screens for browsing the Middle Eastern section, curated by Bidoun Projects, of the avant-garde sound and film archive website UbuWeb.

A satellite project, part of Bidoun Projects at Art Dubai at Dubai International Financial Centre
March 16-20, 12.00-21.00
March 21-April 30, Sat-Thurs, 5-9pm
nbx2010 is a 12-metre shipping container, transformed into a touring space for multidisciplinary art by Shamma Al Amri and Mona Fares, two arts graduates from Dubai.
The inaugural exhibition in the "nomads box" comprises a series of photographs of semi-abandoned neighbourhoods, taken on a pinhole camera by Al Amri, with an accompanying video. For the artists, the project encapsulates the idea that contemporary cultural traditions were born from a nomadic experience.
Mona Fares and Shamma Al Amri met at Latifa School, Dubai, and graduated with BAs in Arts and Design in 2007. They have both participated in exhibitions locally and abroad, and Mona recently launched a fashion label, Neon Edge. Shamma was a founding member of the Dubai Culture & Arts Authority; her pinhole photographs are published in the Burj Khalifa Opus. They began working on nbx2010 in 2008.
www.nbx2010.com
email: contact@nbx2010.com
Many thanks to the Dubai Culture & Arts Authority (Dubai Culture) and the DIFC for their endorsement of this project